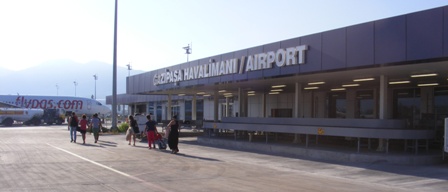 A New Airport eases the access to South Turkish Riviera. GAZIPASA ( GZP ) AIRPORT

Eventhough the airport building was finished about 10 years ago, it didnt start to operate till 2009, It has started with Couple of domestic flights from Istanbul and Ankara ( the capital of Turkey ) but today there are alot of International flights going to Gazipasa Airport. People in the region call Gazipasa Airport as ALANYA-GAZIPASA Airport but formerly it is called GAZIPASA AIRPORT and the IATA Code for Gazipasa International Airport is GZP.
There are international flights going into Gazipasa Airport from Germany, Holland, Finland, Scandinavian Countries, Belgium and Arabic countries in the summer season. While the popularity of Gazipasa increase , the Airport Authorities build new run ways and taxi roads to handle bigger aeroplanes.
The Resorts Served By Gazipasa Airport
- Alanya ( About 35 Mins )
- Mahmutlar ( About 30 Mins )
- Kargicak ( Gold City Complex ) ( About 25 Mins )
- Konakli ( About 45 minutes )
- Turkler ( About 50 Mins )
- Side ( About 1 hour 15 Mins )
- Manavgat ( About 1 Hour 15 Mins )
- Kizilagac - Kizilot ( About 1 hour 15 mins )
Popular Private Transfers that BritishTransfers.com offer from Gazipasa Airport
BritishTransfers.com offers transfers to all the resorts that served by Gazipasa Airport. Please make a search for your resort from the search box on the left.Please note that the transfer times given above are estimated and may change according to the vehicle type, road & weather conditions. BritishTransfers.com offers Both Shuttle Bus / Hoppa Bus and PRIVATE transfers from/to GAZIPASA Airport.